Even though my gift card only had $29 left in it and my grand total was $199, it still helped. Then afterwards I went to Washington Square mall where I bought this cute leopard print dress from MetroPark.
I might wear this dress tomorrow when I go see Trophic Thunder with my boyfriend, but I'm not sure...
Anyway, I hope you all are enjoying this lovely weather we're having. I can't believe today was 110 degrees! Wow and tomorrow it's going to be 100 degrees, but still! At least I can still wear cute summer clothes until summer is over ... :( booo....
So after cleaning the house today, my friend Juan and I decided to hit the mall! We first went to Bridgeport Village where I went to American Apparel to use my gift card. This is what I bought today:
Current Location:

My room

Current Mood:

bored

Current Music:

Cherry Lips - Garbage
So what's new with me? I've been obsessing over American Apparel lately and I just bought this really cute dress call "The Le Sac Dress" where you can wear it any way you like! It looks like this:
And you can wear this dress in different ways, here are a few of my favorites:
I love this dress so much that I bought one in Fuchsia w/ Denim straps and I just bought one in Orchid w/ Black straps.
Hmm and what else. Oh! And I went to Nordstrom Rack last night and I bought these cute Juicy Couture sunglasses and Juicy Couture hand bag plus some cute tees.
Well I think I'm going to be writing on this site from now on, I always liked Live Journal better anyway. Ciao!
Hey guys, I haven't written on this in a while! I nearly forgot that I have a Live Journal so that's why I've been writing on Myspace. I can't believe that it's August already and you know what that means! School is next month! Grr...I am enjoying my summer so far hanging out with my boyfriend, working (sort of), and hanging out with my friends. Also I've been shopping a lot and trying to create my online store Rosebude Boutique, which could be found on Myspace.


Then he says "What? You're scared of me or something?" and the guy to my right says "You should probably ask her how old she is man." So after the guy to my left gave up, the guy to my right asks "So, before I ask your name, do you have a boyfriend?" and I was like "Yep." "Really? Want to give me your number just in case things don't work out?" "Nope." "Oh come on, is it serious?" "We've been together for nine months." "Wow....well are you old enough to smoke?" "Uh, nope" So I lied, even though I do occasionally smoke, but anything to get rid of this guy. Then that guy finally gave up to and I was relieved! Creepy!!!!
Hey everyone, hope you guys enjoy the nice beautiful weather we had today, because tomorrow will be raining. BOO! Anyway, I had work today and like usual I'm too lazy to read my chapters for tomorrow's class! Work was mellow and it was nice working with my boyfriend like always (except when we have a fight...). So today he gave me some money to get some Slurpee's at the 7 - 11 like usual. Well when I was getting our drinks, some guy approach me and was like "Hey baby girl, how are you?" and I didn't reply, I just smiled cause that's when I do when some creepy guy talks to me.


- Heatherette Unicorn Jeans

- Heatherette Unicorn Tank

- Heathrette logo L/S Tee

- Penguin Tube Top

- Robot Shirt w/ Hoodie

I saved a lot today, around $40 dollars and I am definantly coming back! I hope they have more Heatherette stuff coming soon, but besides that brand there's other super cute stuff as well!
Hey everyone, I've been procrastinating this week! I keep telling myself to catch up on my chapters and do my homework but I keep forgetting to do it! Maybe it's the nice weather we've been having this week? Anyway, after a week of working and dealing with bitchy customers, I finally get to hang out with my sweetie and his kids today. I begged him to take me to Le Reve Boutique, located in Camas, Washington, where they sell trendy clothes from Heatherette (My favorite brand!) to Gwen Stefani's Harajuku Lovers. Today was Le Reve's "Skinny Bitch Sale" where I found some awesome Heatherette stuff! This is what I bought that was on sale and not:
So anywho, my orders from Fred Flare came in today and I finally got my cute dress, top, and a pair of earrings that reminds me of Edie Sedgwick.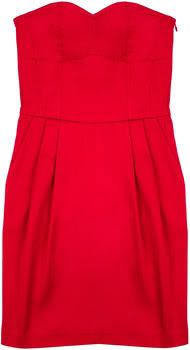 But I realized that I ordered the wrong size for my dress when I tried it on and it was too small, so now I have to send it back in the mail and exchange it for a bigger one. Hopefully the dress will come back in time when I take my boyfriend out for his birthday next weekend.
Ooh! And check out this cute picture of Jessica Alba that I asked them to draw for me on the receipt:
xD - It says "Preggers!" fyi.
So I took the day off from work today to study for my damn mid-terms tomorrow night. But the funny thing is that never got around to doing that! I told myself to study but I just end up looking at random stuff online.
Current Location:

Hell Hole

Current Mood:

lazy

Current Music:

Watching a Korean drama series "Snow White"
Cosmetics:
1. Heatherette Beauty Powders: Alpha Girl & Smooth Harmony
2. Heatherette Lip Glass: Starlet Kiss & Sock Hop
3. Heatherette Lip Stick: Lolly Pop Lovin'
4. Heatherette Eye Shadow: Trio
#1
&
#2
5. Heatherette Lash: Good girl lash and Bad girl lash
Apparel:
1. Heatherette Pink Unicorn Shirt
2. Heatherette The Pinball Jean
3. Heatherette The London Swing Coat
4. Heatherette The Richie Rich and Traver Rains T-shirt
Okay, seeing that I can't go to bed and I have Heatherette on my mind, why not make a list of things I have?
Current Mood:

sleepy

Current Music:

Watching some crappy movie